2019년 6월 15(토) 제91차 월례법회(MDT) 공지
제91차 월례법회(MDT) 공지
일시: 2019년 6월 15(토) 오후 4:00~6:00
장소: 전법회관 지하 선운당 
초청 법사: Hyedahl Sunim(혜달스님)
법문 제목: Buddhism is for the welfare and happiness of all.
6월 월례법회에 혜달스님(연등국제선원)을 모셨습니다.
이번 법회는 영어로 진행되니 두루 참석하시어 좋은 법문을 함께 듣고 나누었으면 합니다.
국제포교사님들의 많은 성원과 참석을 바라옵고 주변의 관심 있는 분들께도 홍보해주시기를 부탁드립니다.
대성 이홍열 합장
* 자세한 내용은 아래 안내문을 참조하세요.
Invitation to the
91th MONTHLY DHARMA TALK
▪ Date & Time: Saturday, 15 June 2019, 16:00–18:00
▪ Venue: 전법회관 지하1층 선운당
(Jeonbeobhoegwan B1 , directions below)
▪ Dharma Teacher: Hyedahl(혜달)스님(연등국제선원 주지)
▪ Topic: Buddhism is for the welfare and happiness of all.
▪ Language: English
The International Dharma Instructors Association(IDIA) is a non-profit organization under the support and
supervision of the Jogye Order of Korean Buddhism(대한불교조계종). Our mission is to help people find
inner peace and true happiness by sharing Buddha's teachings. MONTHLY DHARMA TALKS are given by
eminent Seon(Zen) masters and venerable Buddhist monks or nuns.
Anyone interested in Buddhism is welcome to join!




▪ Dharma Teacher: Hyedahl Sunim


▪ Topic: Buddhism is for the welfare and happiness of all.
▪ Abstract:
Buddhism is a path of practice that offers the means to free ourselves from all the delusions that leads to freedom from all suffering and to the bliss of enlightenment.
We practice and aspire to achieve enlightenment. But if that is not possible, we should seek to gain freedom
from rebirth. If that is not possible, we should at least plant the seeds for a favorable rebirth in the next life, without falling into lower realms of existence.
At this auspicious juncture, when we are free of obstacles to hearing and practicing the Dharma, we must not let this rare opportunity pass. However, freeing ourselves from suffering is only part of the quest. Just as you do not want even the slightest suffering and want only happiness, so also does everyone else.
All beings are equal in the sense that all have a natural tendency to wish for happiness and freedom from
suffering. All beings have the same right to happiness and freedom from suffering. Knowing this and still
working only for our own liberation makes the accomplishment a small one. But if our underlying motivation is to be able to help others, we can attain the omniscient state and with it the capacity to benefit every living being. We can become Buddhas ourselves.
▪ Biography:


- Born in Arunachal Pradesh, the north east of India in Nov. 1973.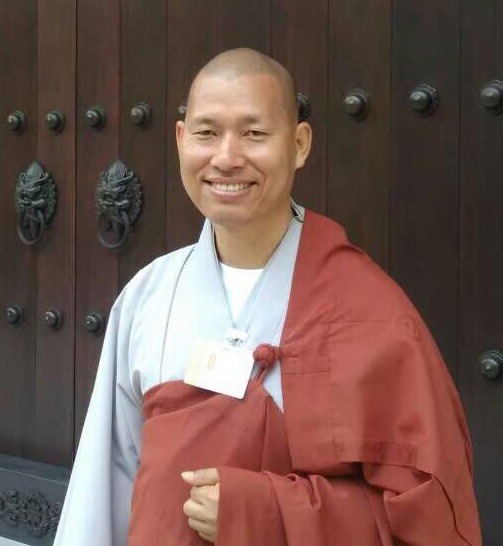 - After completing high school, ordained as a Theravada Buddhist  monk
  in 1991. 
- Served as a teacher in Bodhichariya senior Sec.school, Kolkata in 1999.
- In 2000 June, came to Korea for further study and practice of Korean
  Buddhism.
- Ordained in Korean Jogye order as a Disciple of Ven. Won Myoung
  Sunim in Sept. 2001.
- Served Master Ven. WonMyung Sunim, till his last breath in 2003.
- Practice Korean Seon (meditation) in various Seon centers(선방, 禪房) of  Korea for about 10years.
  Such as HyeUn Jeoungsa, Donghwasa, PeopJusa, Songgwangsa, Mangwolsa, Go Unsa etc.
- Presently, in-charge of Lotus Lantern Int'n'l Meditation Center located in Kanghwa Island.